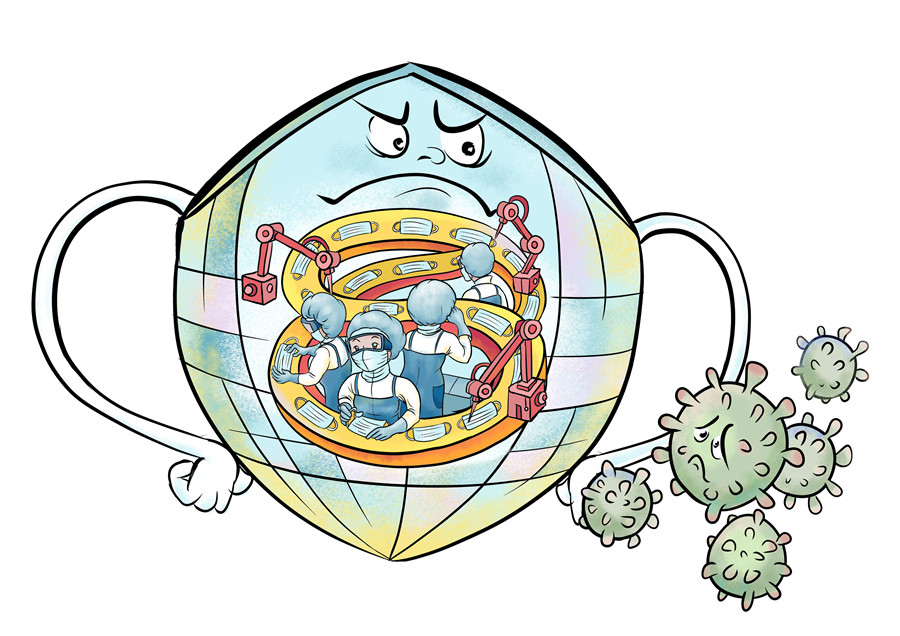 [Ma Xuejing/China Daily]
From new firms to established companies, Chinese enterprises marry corporate social responsibility with market acumen
Guess approximately how many new face mask firms emerged in China in the space of just 60 days (Jan 1 to Feb 29)? A jaw-dropping 3,000, a potential world record-and a harbinger of a possible multibillion-dollar business.
During the initial stages of COVID-19 outbreak in January and February, even as the devil of stigmatization of certain nationals threatened to rear its ugly head, the world could not help but admire five aspects of epidemic control in China.
One, the swiftness with which large swathes of geographies were locked down peacefully to contain the virus' spread, even at a huge economic cost; two, the amazing ability to undertake construction activity using prefabricated materials to build big hospitals in a matter of days; three, the rapid response of monetary and fiscal authorities to ensure unimpeded support for businesses involved in the virus combat; four, the creative innovations by high-tech companies to steady and strengthen the disease control efforts, society and the economy; and five, the unbelievable flexibility, ingenuity and social responsibility displayed by Chinese corporates across industries in meeting the huge demand for face masks and other necessary medical supplies.
Of the five factors, the mass production of masks acquired added significance this month when the United States struggled with shortages and had to issue public appeals their consumption should be limited to frontline medical workers, while India banned mask exports to meet anticipated domestic demand.
Employees of a protective and clean products company step up face mask production in Handan city, Hebei province, on Feb 28. [Photo by Hao Qunying/For China Daily]
What helped China stand out from the crowd was the approach adopted by its corporates such as China National Offshore Oil Corp or CNOOC, and China Petrochemical Corp, also known as Sinopec Group. They produced additional quantities of polyethylene, polypropylene and medical-grade synthetic resin. The petrochemicals are raw materials for face masks, syringes and other medical supplies. Their production helped preempt any medium to long-term shortages.
Similarly, China National Petroleum Corp, or CNPC, produced disinfectants, protective suits and masks.
In the COVID-19 combat, the output value of face masks in China has surged, inflating demand that had been building due to rising health awareness and stop-start air pollution, a recent report said.
Beijing-based CCID Consulting said in a report China's output value of masks this year will likely surpass 13.2 billion yuan ($1.9 billion), up almost 28 percent from 10.2 billion yuan in 2019. Over the past five years, the output value of masks on the Chinese mainland had seen compound annual growth rate of nearly 13 percent.
On March 5, Li Xingqian, general director of the Department of Foreign Trade at the Ministry of Commerce, said demand for face masks remains high in spite of increased production, as various economic sectors head for a reboot after the extended break that began in January with the Spring Festival holiday.
Given that no restrictions have been placed on the trade of masks, producers are expected to carry out their business in a principled way, as per market forces, he said.
Data from the China Textile Commerce Association showed that in 2011, China's demand for face masks totaled 1 billion pieces. That figure quadrupled to 4 billion pieces in 2018. Owing to epidemic control measures, demand for masks is likely to continue to surge.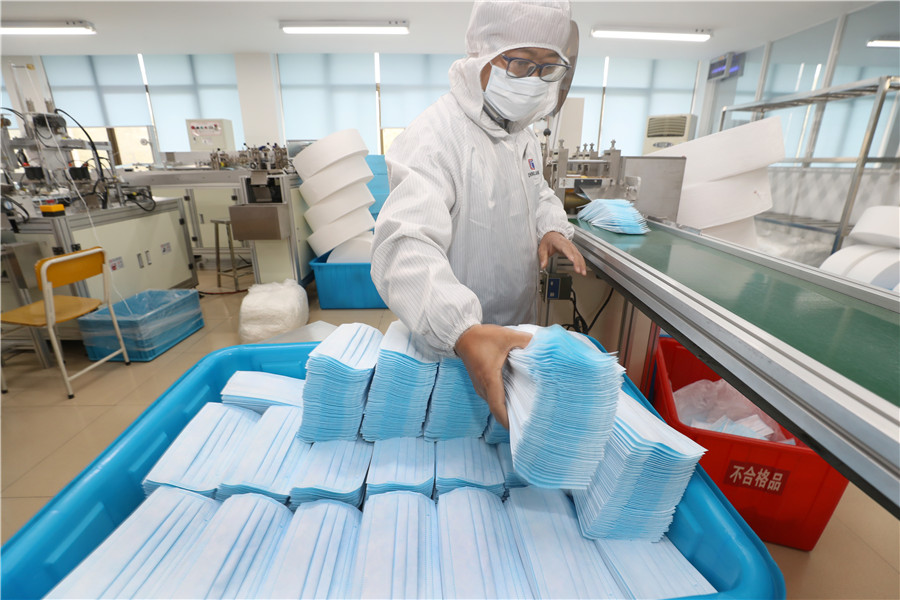 A worker sorts newly produced face masks on the production line of Qianye Industrial Co Ltd in Nantong, Jiangsu province, on Feb 26. [Photo by Xu Congjun/For China Daily]
There are more than 530 million workers in the second-and third-tier cities. They each need at least one face mask every day, said a report from Hua Chuang Securities.
Lian Weiliang, deputy head of the National Development and Reform Commission, said during a news conference earlier this month that to ensure adequate supplies not just in smaller cities but countrywide, the government is encouraging mask producers to operate at full capacity.
According to the NDRC, by Feb 29, the country's daily production of face masks reached 116 million pieces, up 1,100 percent from the level on Feb 1. Among them, the daily production of surgical N95 type masks reached 1.66 million pieces.
According to Tianyancha, a Chinese corporate data provider, East China's Shandong province tops the list with 1,094 mask manufacturers that make 2 million pieces daily, followed by Jiangsu and Zhejiang provinces.
Other provinces are also ramping up efforts. For example, as reported by bjnews, the Beijing municipal government has retrofitted 23 old production lines to make 80,000 high-quality masks per hour.
Similarly, Chinese companies engaged in non-medical businesses have improvised or innovated their factories to produce masks. For instance, Shenzhen-based carmaker BYD announced on Feb 8 it will expand its product portfolio to produce masks and disinfectants. The company said its daily production capacity for masks is estimated to reach 1 million pieces by the end of this month.
Shanghai-based underwear brand Threegun Group has also jumped on the mask bandwagon. Its pilot production line is capable of producing 40 masks per minute, and full-fledged machinery upon installation will ramp up production to over 100 masks per minute. In all, the company plans to install 50 mask production lines to raise daily production to 5 million masks.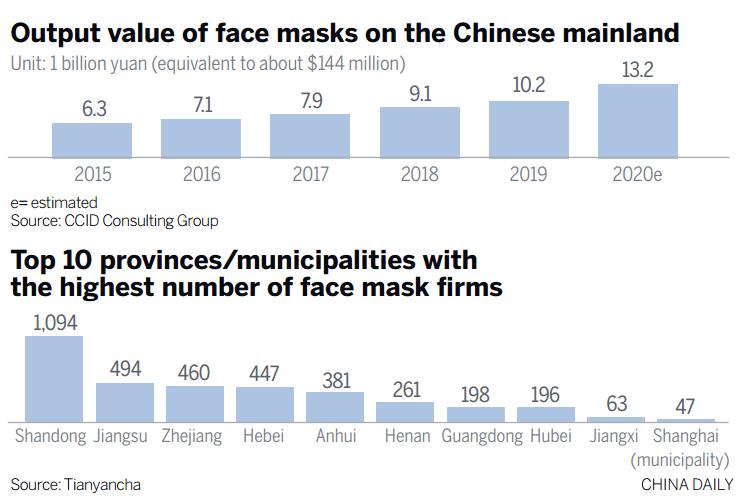 Qichacha, a data bank that tracks registrations of new businesses in China, showed that from Jan 1 to Feb 29, the number of enterprises whose business scope covers medical equipment, masks and other protective equipment had surged. Among them, as many as 2,957 new companies were involved in the manufacture of masks.
Zhang Weiwei, an online content editor with the Business Review Magazine , said it remains to be seen if the market can sustain all these mask makers once the epidemic ends.
A newly established mask enterprise in Zhejiang province, Zhang said, plans to make high-end protective masks, and further expand its capacity by 20 percent after the epidemic ends.
Despite market uncertainties, industry experts noted that in the future, professional-grade face masks will dominate the market. This could mean, the market share of low-end gauze masks will inevitably drop.
Above news from China Daily
About us:
Liyang Paper Products Co., ltd is a factory and trade company located in Dongguan, China. Specialized in producing gift paper packaging, such as Gift Box ,Paper Box, Paper Bag, Jewelry Box,Watch Box, Belt Box , Shoe Box , Wine Box,Cosmetic Box, Flower Box, Round Box,ect.
Custom made base on your design is welcome, feel free to contact Liyang printing with your full details.
│ www.liyangprinting.com